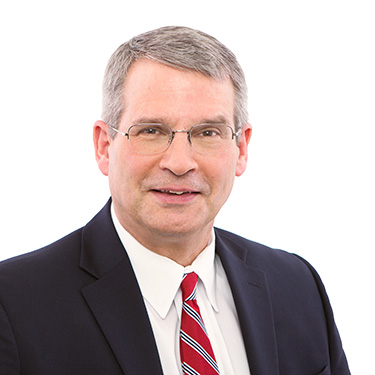 David P. Corrigan
|
Partner
804.762.8017
|
email
|
vCard
ASSISTANT
|
Amber Stephens
804.762.8029
PARALEGAL
|
Mary Craig Bryant
804.762.8025
OFFICE
|
Richmond
Save as PDF:

David has tried over 100 cases to verdict including employment, construction, civil rights, defamation, products liability, automobile, premises and property cases.  David specializes in representing state and local governments and their employees.  He has handled constitutional cases and employment discrimination and tort claims of all types against cities, counties, towns, school boards and regional authorities. He has defended school superintendents, principals, guidance counselors and teachers, and he frequently represents mayors, city council members, county supervisors, police officers and police brass.
Education
Hampden-Sydney College, B.A., 1979
University of Notre Dame, J.D., 1986
Professional Honors & Activities
American College of Trial Lawyers, Fellow
Virginia Association of Defense Attorneys, President (2000-2001)
Virginia Law Foundation, Fellow
Elk Hill Farm, Inc., Former President of the Elk Hill Board

A private, non-profit organization that helps at-risk teenagers with emotional, educational and legal problems

Virginia Business Legal Elite

Labor/Employment (2007)
Civil Litigation (2008, 2010 – 2018)

Virginia Super Lawyers, Employment Litigation: Defense  (2007 – 2019)

Top 50 Lawyers in Richmond (2015 – 2017 & 2019)
Top 100 Lawyers in Virginia (2015 – 2019)
10 Years Selected to Super Lawyers

Virginia Super Lawyers, Business Edition, Employment Litigation: Defense (2008 – 2013)
Best Lawyers in America, Employment Law – Management (2013 – 2020)
Richmond Bar Association
Defense Research Institute
Local Government Attorneys Association
Virginia Bar Association

Bar & Court Admissions
Virginia State Bar, 1986
United States District Court for the Eastern and Western Districts of Virginia
United States Court of Appeals for the Fourth Circuit
United States Supreme Court
Reported Cases
Hensel Phelps Constr. Co. v. Thompson Masonry Contractor, Inc., et al, 791 S.E.2d 734 (Va. S. Ct. 2016)
Silverman v. Town of Blackstone, 843 F.Supp.2d 624 (E.D. Va. 2011)
Swann v. City of Richmond, 462 F. Supp.2d 709 (E.D. Va., Nov. 17, 2006)(No. Civ.A. 3:06CV069)
Conley v. Town of Elkton, 190 Fed.Appx. 246 (Not selected for publication in the Federal Reporter), 2006 WL 2008759 (4th Cir.(Va.), Jul. 14, 2006)(No. 05-2004)
Conley v. Town of Elkton, 381 F. Supp.2d 514 (W.D. Va., Aug. 4, 2005)(No. Civ. A. 5:04CV00030)
Conley v. Town of Elkton, Not Reported in F. Supp.2d, 2005 WL 415897 (W.D. Va., Feb. 22, 2005)(No. Civ. A. 5:04CV00030)
Smith v. Shenandoah Valley Juvenille Detention Home Com'n, Not Reported in F. Supp.2d, 2005 WL 372262 (W.D. Va., Feb. 15, 2005)(No. Civ. A. 5:04CV00022)
Styles v. City of Colonial Heights, 43 Va.App. 588, 600 S.E.2d 174 (Va. App., Aug. 10, 2004)(No. 0803-03-2)
Jones v. Virginia Oil Co., 69 Fed.Appx. 633 (Not selected for publication in the Federal Reporter), 2003 WL 21699882 (4th Cir. (Va.), Jul 23, 2003)(No. 02-1631)
Brackman v. Fauquier County, Virginia, 72 Fed.Appx. 887 (Not selected for publication in the Federal Reporter), 2003 WL 21541040 (4th Cir. (Va.), Jul. 9, 2003)(No. 02-1161)
Dean v. Dearing, 263 Va. 485, 561 S.E.2d 686, 30 Media L. Rep. 1698 (Va., Apr. 19, 2002)(No. 011154)
Dean, Jr. v. Town of Elkton, Not Reported in S.E.2d, 54 Va. Cir. 518, 2001 WL 184223 (Va. Cir. Ct., Feb. 21, 2001)(No. CL00-11958)
Bailey v. Lancaster Ruritan Recreation Center, Inc., 256 Va. 221, 504 S.E.2d 621 (Va., Sep. 18, 1998)(No. 972112)
Estate of Morgan v. Mayor and City Council of Hampton, Va., 936 F. Supp. 343 (E.D. Va., Mar. 22, 1996)(No. Civ. A. 4:95CV17)
Oates v. Catheter Technology Corp., 902 F.2d 1566 (Table, Text in Westlaw), Unpublished Disposition, 1990 WL 64607 (4th Cir.(Va.), Apr. 25, 1990)(No. 89-1538)
Representative Experience
Represented a chief of police against allegations of malicious prosecution, abuse of process, common law conspiracy and intentional infliction of emotional distress and obtained a defense verdict in a three day jury trial in state court.
Represented a city police officer who shot and killed a driver who was dragging the officer as the driver attempted to flee.  Prevailed on a Motion for Summary Judgment in federal court with the District Court dismissing all federal and state claims.
Represented a local city and obtained a Voluntary Stipulation of Dismissal in federal court of claims between a construction design firm and the city for breach of contract,  quantum meruit and unjust enrichment.
Prevailed on a Motion to Dismiss in federal court in suit by former employee against a local town alleging wrongful termination and violation of First Amendment rights.
Obtained a dismissal in state court after a four day jury trial in which he represented four school administrators sued by the estate of a teenage student who committed suicide alleging that the school administrators had failed to address bullying by fellow students at school which led to the suicide.
The cases referenced above do not represent the lawyer's entire record.  Each case must be evaluated on its own facts.  The outcome of a particular case cannot be based on past results.